Talent Acquisition Partner
Spring Professional
Taipei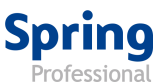 【About us】
Spring Professional is a wholly-owned subsidiary of Adecco, the world's largest human resource solutions organization headquartered in Zurich, Switzerland. Our access to local and global market trends and research also ensure we can add value to all of our customers through insights and thought leadership.
In Taiwan, we focus on professional recruitment service in "Engineering & Technical" and "IT & MIS/Software Development & Applications". We develop trusted relationships with our partners, sharing market intelligence and recruitment advice to help you understand and respond to ever-changing and fast paced labor markets.
【Responsibilities】
Partner with business leaders and hiring managers to assess their talent requirements and advise on the best hiring strategy.

Suggest and implement new HR Strategies, new procedures, and policies to improve the efficiency of HR and employee experience.

Strengthen employer branding, use a variety of techniques to discover and attract the best passive talent.

Assist in improving and maintaining the internal employees' satisfaction.
【Job Requirements】
At least 2 years of recruiting experience, including creating and posting job descriptions, facilitating interview processes.

With head-hunting experience is a plus.

Good communication and coordination skills.
【We provide】
Flexible working hours, working from home.

Training and software knowledge base.

Partner with two HR interns.

Workshop, training and team building activities.

Monthly happy hours, fruit day.
【Application method】
If you are interested in this position, please send your resume and portfolio to Ally.hsieh@springasia.com, Debby.chien@springasia.com with the following subject line: [Apply for TA partner – Your Name] We look forward to hearing from you!
---
More about this work: (Adecco 內部職缺) 兼職_Talent Acquisition Partner_SWP_635|Spring Professional_藝珂人事顧問股份有限公司躍科分公司|台北市信義區-104 人力銀行
More about us: Spring Professional Taiwan│躍科人才