The UK Renewables Energy Committee (UKRC) is a renewable energy industry representation body under the umbrella of the British Chamber of Commerce in Taipei (BCCT). The UKRC will support the growth and proliferation of renewables in Taiwan.
---
Membership
Membership falls into two categories: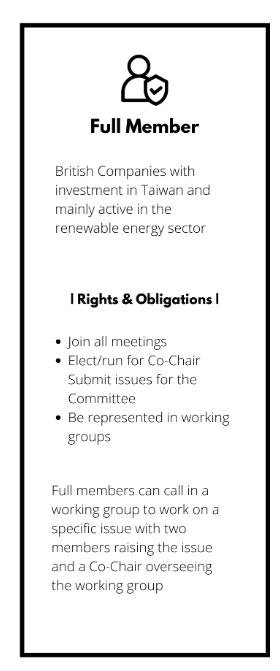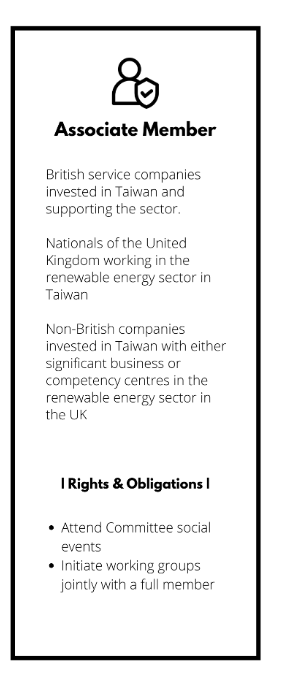 The UKRC is a platform for networking and collaboration among its members to build relationships across the supply chain of renewables between Taiwan and the UK , facilitate exchange, lessons learned and experiences among its members, the Taiwanese industry and the general public. The UKRC will represent its members to raise issues towards the Taiwanese government and create awareness for renewables towards industry, academia and the public. The UKRC will work closely with the British Office Taipei.
Co-chairs:
Tom Manning (Co-Chair)-CWind Taiwan
Yu-Foong Chong (Co-Chair)-RWE Renewables
Committee Members:
Ahmad Aziz - Horizon Geosciences Limited
AlbanyTam - Arup
Barrie Robertson - RWE Renewables
Benjamin Attwell - Ode Ltd Taiwan 
Chris Schraa - Mammoet Heavylift(Taiwan)Limited
Dean Coates - Specialist Marine Consultants Ltd (SMC)
Duncan Higham - Remote Medical International
Eddie Moore - Motive Offshore Group Ltd
Ernest Leung - Aon Taiwan Limited
Gary Howland - JDR Cable Systems Ltd.
James Hope - Sulmara Subsea
Jim Chen - Mott MacDonald Taiwan
Jim Chen - Lloyd's Register
Kent Fong - London Offshore Consultants (LOC Renewables)
Kimberly Cram - Macquarie
Laura Evertsen - The Renewables Consulting Group (Taiwan) Ltd.
Matt Bowden - Swire Group
Richard Freer - Bechtel
Kevin Liu - James Fisher Marine Services Limited 
Richard Burch - The British Office Taipei
Robert Bates - Miros Scotland Ltd.
Rohit Edwin - London Offshore Consultants (LOC Renewables)
Sam Dowey - Correll Services
Sarah Westenberger - Aggreko
Sean Gorman - Wood
Stephanie Ashmore - The British Office Taipei
Steven Parker - British Chamber of Commerce in Taipei
Thomas Wang - Willis Towers Watson Taiwan Limited
Tim Sawyer - Flotation Energy
Tom Whittle - Offshore Wind Consultants Taiwan Co., Ltd
Tony Lu - Seajacks UK Ltd (Taiwan Branch)
Wei Hong Liao - Willis Towers Watson Taiwan Limited
Will Feng - Ode Ltd Taiwan 
Membership in the UKRC is free of charge. Membership in the BCCT is highly encouraged. To facilitate the work of UKRC funding by members might be necessary and is encouraged.
Committee Rules and Guidelines With the exception of the above, the UKRC will follow the Rules and Guidelines for the British Chamber of Commerce in Taipei, as attached to this document. Where in doubt the Co-Chairs should confer with the BCCT CEO to find an amicable solution. The UKRC will meet once each quarter.

Co-Chairs The UKRC committee has appointed two Co-Chairs and these positions will be open for election every two years by simple majority of Full Members. Within one year the Co-Chairs together with the BCCT CEO will appoint a sponsor from the BCCT BoG.
Working Groups To facilitate renewables in Taiwan and represent the interest of all members of the UKRC, members can form working groups, who could either address issues, support campaigns, create events, publications, or engage in outreach activities on behalf of the UKRC. Two full members can call in a working group or one full member and one associate member as long as this is sponsored and overseen by one CoChair. Working Groups can run indefinitely and either be dissolved by the founding members or the Co-Chairs and BCCT CEO.