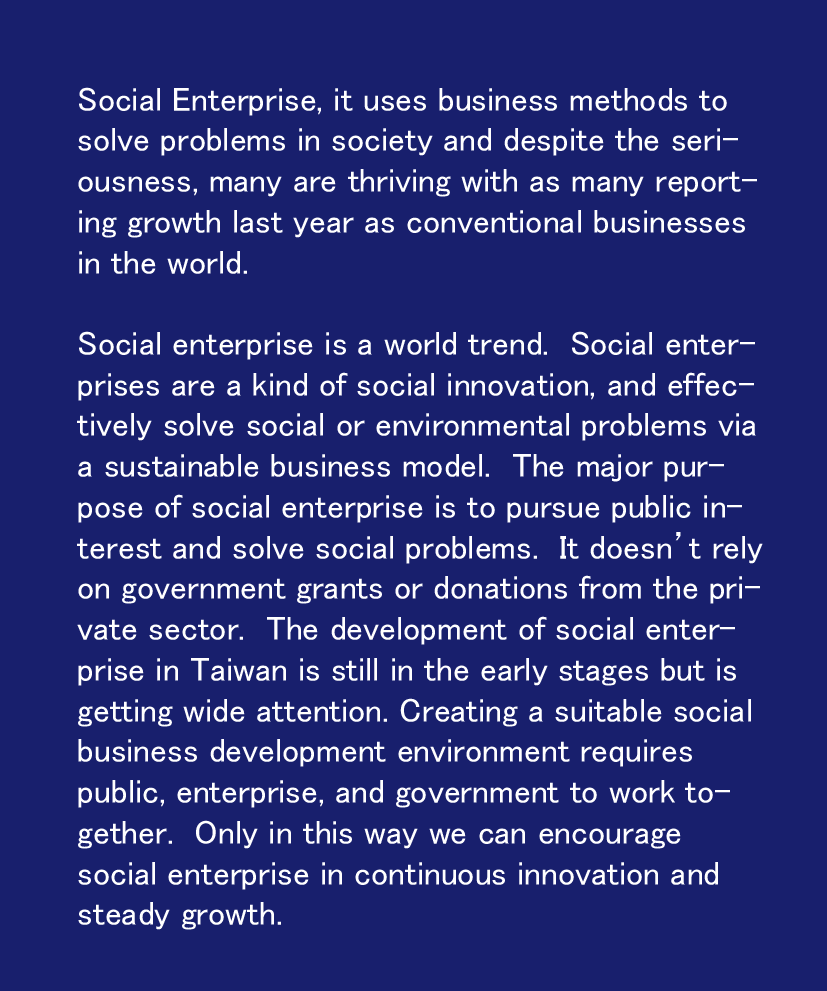 A Social Enterprise Award, open to Taiwan-based social enterprises (company limited or company limited by shares) and under the banner of the British Chamber of Commerce in Taipei Business Awards, will provide a great platform to celebrate and share the achievements and learning from organisations in this important area. This will not only leverage KPMG's professional experience in audit, finance, tax and advisory service, but also involve the professional
consulting and incubation program via connecting our clients' network. It can create more business opportunities to carry out the cooperation between social enterprises, profit-organizations and potential investors.
We suggest that submissions can be made in the form of a team submission, but all have to be made under the name of a specific company.
---
Categories
We suggest that nominations/entries can be made under one of the United Nations Sustainable Development Goals:
Goal 1: No Poverty
Goal 2: Zero Hunger
Goal 3: Good Health and Well-Being for People
Goal 4: Quality Education
Goal 5: Gender Equality
Goal 6: Clean Water and Sanitation
Goal 7: Affordable and Clean Energy
Goal 8: Decent Work and Economic Growth
Goal 9: Industry, Innovation, and Infrastructure
Goal 10: Reducing Inequalities
Goal 11: Sustainable Cities and Communities
Goal 12: Responsible Consumption and Production
Goal 13: Climate Action
Goal 14: Life Below Water
Goal 15: Life on Land
Goal 16: Peace, Justice and Strong Institutions
Goal 17: Partnerships for the Goals
Criteria
1. Clarify the relation of Social Enterprise and social issue (25%)
2. Realistic economic value and social impact (20%)
3. Innovative product or service solution (15%)
4. Sustainable business model (20%) 【Bonus question (3%)】
5. Transparent governance (20%)

*Note: In order to ensure fairness and diversity of awards, the winner of last year cannot reapply for the same award this year, but can apply for other award categories.
If you have any questions, please email info@bcctaipei.com or dial T: +886 (2) 2720 1919 
(This regulation does not apply to finalists)