Women in Business Climate Action Taiwan 2023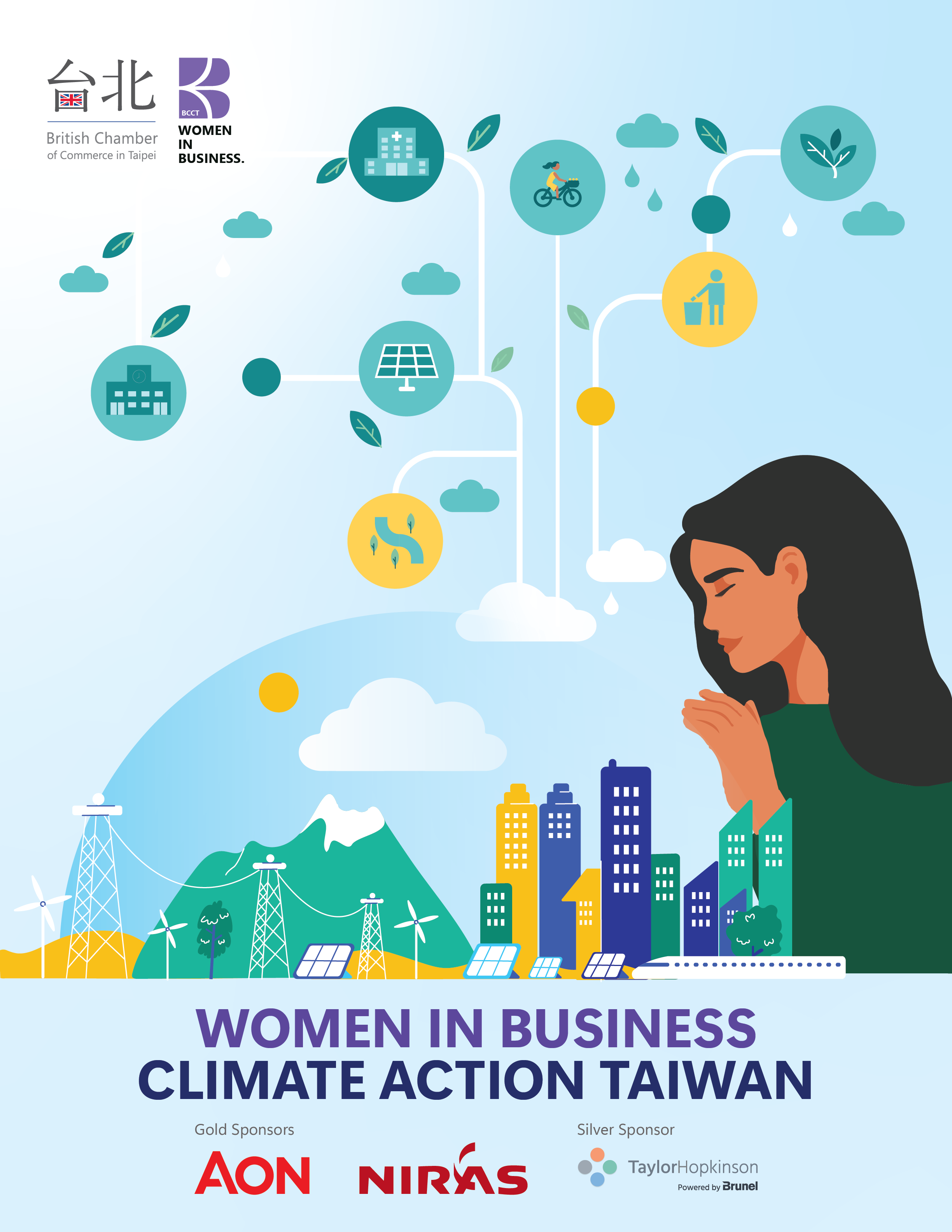 On 2 March 2023, the British Chamber of Commerce in Taipei (BCCTaipei) released its latest report, "Women in Business Climate Action Taiwan (2023)", findings of its cross-industry research on the status and role of women in climate action in Taiwan.
The report identifies three key suggestions for increasing female representation: more hardline governmental legislation for businesses, i.e. tax breaks to incentivise female promotion; regulations to appoint at least one female director per organisation; and more creative means to facilitate women's entry into in-demand industries where they are underrepresented. The research also examines the wide variety of measures adopted by private organisations to tackle climate change in keeping with local policies and legislation.
The survey results show that 80% of organisations are taking steps to reduce their impact on the environment. Meanwhile, more than half (53.3%) implement specific initiatives to attract and retain female employees. With numbers of employees ranging from 1 to almost 4,700 among responding organisations, 81.9% have at least one female manager, and 65.3% have at least one woman in a director's position or above.
Although the representation of women in Taiwan is growing, BCCTaipei's interviews reveal barriers to gender equality: family pressures to prioritise childcare; discrimination from employers; perceptions about women's role at work; a culture of male dominance in certain industries; a lack of investment in female-oriented training schemes; and few women pursuing university degrees in ICT and STEM fields. Another criticism is that employment policies tend to focus on pregnancy and childcare, rather than cultivating talent or promoting women to senior positions.
Please click here to read the full report.
---
We look forward to discussing the issues with an array of distinguished guest speakers at our forthcoming International Women's Day celebration on 16-Mar.
————————————————————
Register now to participate in the Taiwan's largest English Women in Business forum: https://lnkd.in/gRGwSdQi
Date & time: 16-March-2023 (Thursday) 6:00pm – 9:00pm
Venue: Grand Ballroom, 3F, Grand Hyatt Taipei
For more information, please click here: https://lnkd.in/gRGwSdQi
————————————————————
The event was supported by Aon, NIRAS (Gold Sponsors) and Taylor Hopkinson (Silver Sponsor).