Regent Taipei Presents "Summer Wine & Dine": A Perfect Charcuterie Board for All Occasions
With the recent sensation of charcuterie boards on Instagram, Regent Taipei recently launches its own version of this trending appetizer – The Premium Charcuterie Board, now available at the lobby lounge Gallery and its online take-out platform: Take Regent Home. The Premium Charcuterie Board is exceptionally crafted with nearly ten different exquisite ingredients, including Iberian ham, Iberian sausages, black pepper beef, Edam and Parmesan cheese, walnuts, dried apricots and other accompaniments. The spread is well-suited to be enjoyed by 2 to 4 people from NT$1,280 per serving. For an even more indulgent and lavish summer gathering, Regent Taipei also offers the room package – Summer Wine & Dine, with which guests may spend the evening in the 56-square-meter Balcony Room, enjoying the Premium Charcuterie Board for 4-people as well as 4 bottles of red wine in-room, starting from NT$1,995 per person per room. Escape the heat of city streets and retreat to Regent Taipei with the sumptuous cold cuts and cheese in one hand, and a fine fragrant wine in the other, recharge and refuel for the hot summer days.
Listed on Google's "Year in Search 2021" under the category of food, the recent Insta-famous charcuterie board is ranked amongst the top five. Once keywords are entered in the search engine, pictures of beautifully plated charcuterie boards with colorful combinations of cured meat, cheeses, nuts, dried fruits and biscuits will be filling your screen like a virtual art gallery. It is said that this trend first started with an American Internet celebrity – Marissa Mullen (@marissamullen), who took the lead in combining cold cuts with various cheeses and nuts, artistically arranging them on a wooden board and uploaded photos of her work online. The eye-catching and aesthetic photos caught the attention of other European and American celebrities as well as restaurant chefs, so they began to create and upload photos on their own, which led to this internet-sensation of artistic charcuterie boards.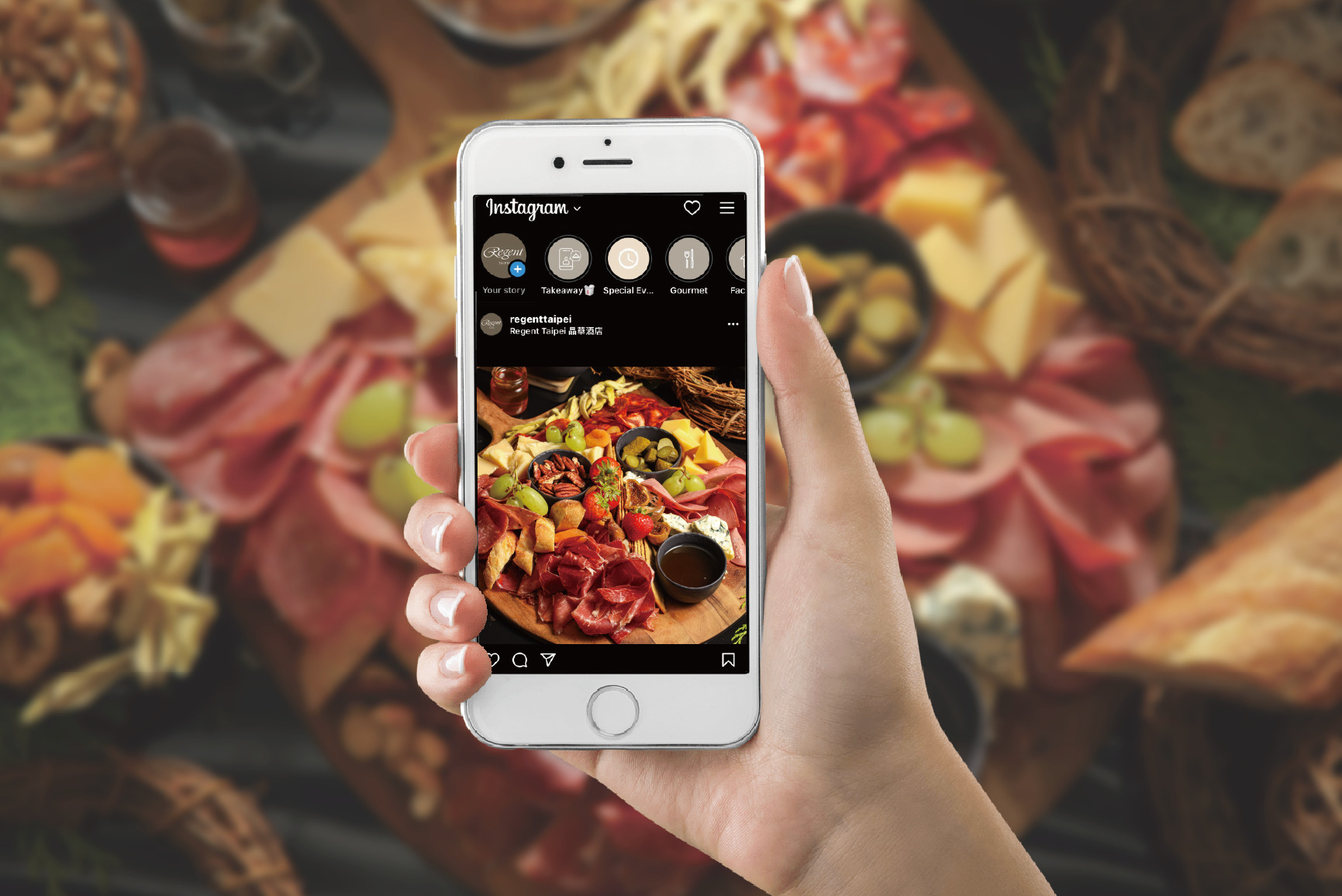 The ever-innovative and pioneering Regent Taipei is not only held in high regard in the culinary world, but also known for its genuine care for providing the finest experience for its guests. This summer, Chef William Tsai from Robin's Grill carefully crafted the Premium Charcuterie Board with exquisite ingredients, providing guests a perfect dish to take their summer gatherings to another level of excellence. The rich and savory Spanish Iberian sausage and ham, black pepper beef slices, American salami and other cold cuts paired with the enticing British Stilton cheese, also known as blue cheese, Dutch Edam, and Italian Parmesan cheese, with sprinkles of nuts and various dried fruits, and the non-negligible accompaniment: crackers and biscuits, laying out this aesthetically pleasing and exuberant Premium Charcuterie Board for an exceptional wine and dine experience.
The Premium Charcuterie Board is available at the lobby lounge Gallery, located on the second floor of Regent Hotel from now until August 31st. Guests may also enjoy this extravagant spread at home with Regent's online take-out platform, Take Regent Home, priced at NT$1,280 for a set for 2, and NT$2,380 for a set for 4 people. Dining in at the Gallery, the Premium Charcuterie Board can be paired with five different Californian wine from Woodbridge, specially selected by Regent's sommelier, for NT$299 per glass, NT$699 for 3, and NT$999 for 5 glasses. For more details, please refer to Regent Taipei's official website (www.regenttaiwan.com ).
For Reservations, please contact 2523-8000 (ext. Reservation Team)

Regent Taipei Address: No. 3, Ln. 39, Sec. 2 ZhongShan N. Rd.
---
A gentle reminder from Regent Taipei:Excessive drinking is harmful to you and others.