Brompton Technology unveils 'world-first' G1 receiver card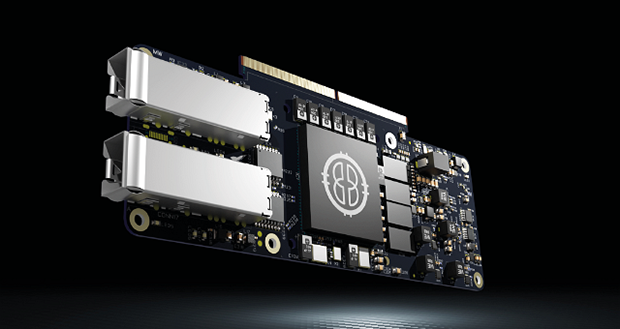 ---
Our new member, Brompton Technology has just announced the release of a new receiver card, the Tessera G1.
The G1 is the first receiver card to support 10Gb fibre connections direct to the panel. It is also capable of supporting a one million pixel capacity for a new generation of ultra-fine pixel pitch panels, or up to 1,000 fps (frames per second).
All this is made possible by a 20x increase in computing power compared to the existing top performer, the Tessera R2+ receiver card.
Cesar Caceres, Brompton's product lead, said that the company's Tessera R2+ receiver card is still optimally positioned to deliver exceptional performance for a vast majority of LED fixtures. In fact, thousands of projects worldwide will continue to use LED panels integrated with R2+ cards with great success. However, the G1 is the choice for next-generation panels.
"We are definitely not forsaking the R2+ card and all its impressive capabilities," Caceres added. "We are simply recognising the rapid advancements of LED video technology. As a company, we are proactively positioning ourselves to meet and exceed the future demands of our industry."
Caceres said the new card will facilitate the integration of additional calibrated channels, which Brompton defines as RGBW, Red, Green Blue and Whatever.
"As with all our systems, we offer flexibility by keeping the possibilities open for the extra emitters. One of the most useful colours we anticipate panel manufacturers wanting to incorporate is white," continues Caceres. "When the colours red, green, and blue are used to represent 'white', the light spectrum they produce may not always look natural and align with the viewer's expectations. Adding a white channel provides an improved spectral output for the panels. And the G1 has the necessary power to cope with the complex algorithms necessary to maintain colour-accurate calibration and control with extra emitters. Also, the only way to achieve colour accuracy from panels with the new RGBW emitters is by calibrating them, and our unique Dynamic Calibration system was designed to enable this possibility."
Another pioneering feature of the G1 receiver card is its capability to support a 10 gigabit connection, thus providing tenfold the bandwidth of the current R2+ card and positioning the G1 as a 'future-proof' solution.