7 th BCCTaipei Better Business Awards Shine a Spotlight on Responsible Business Excellence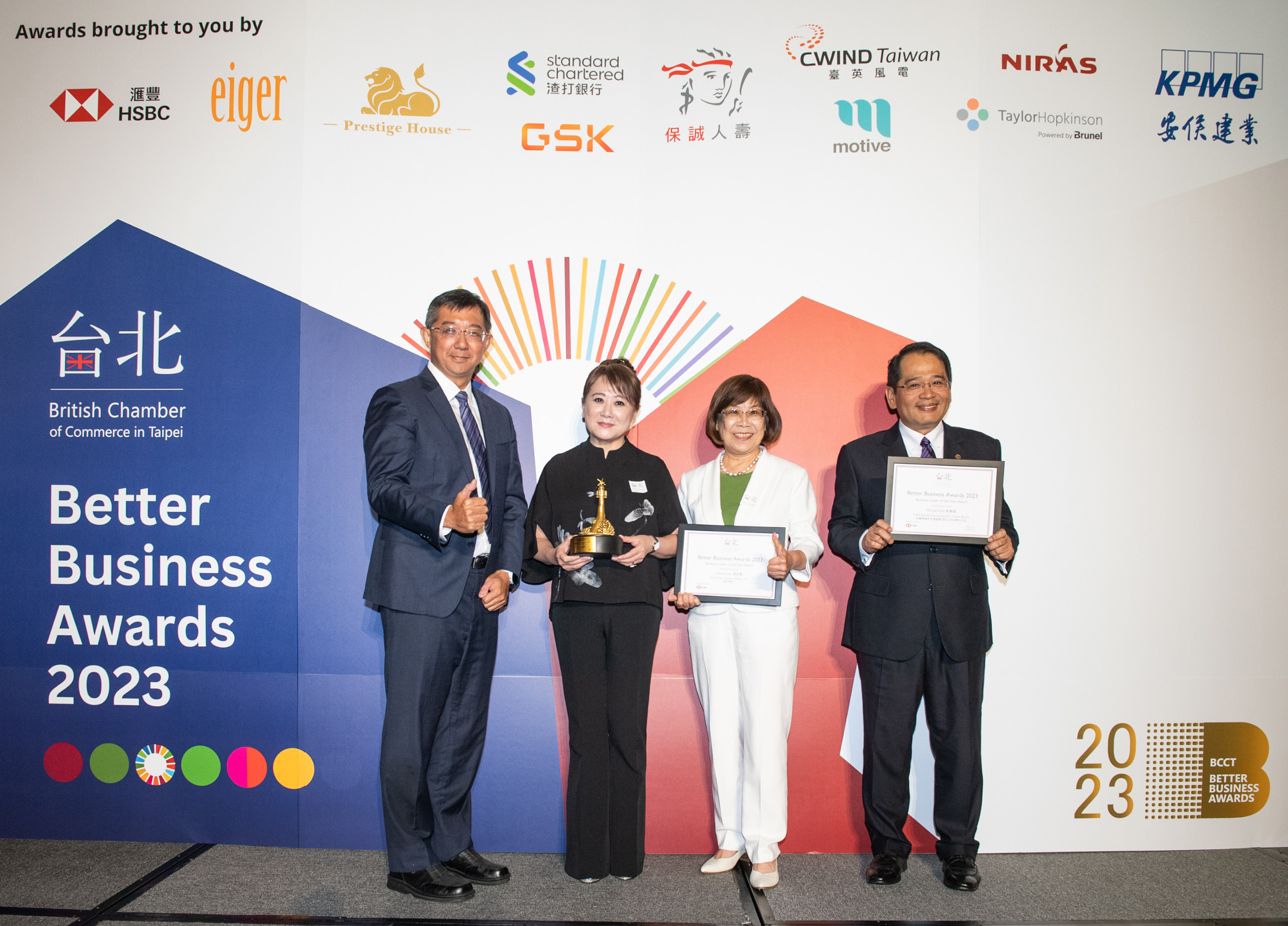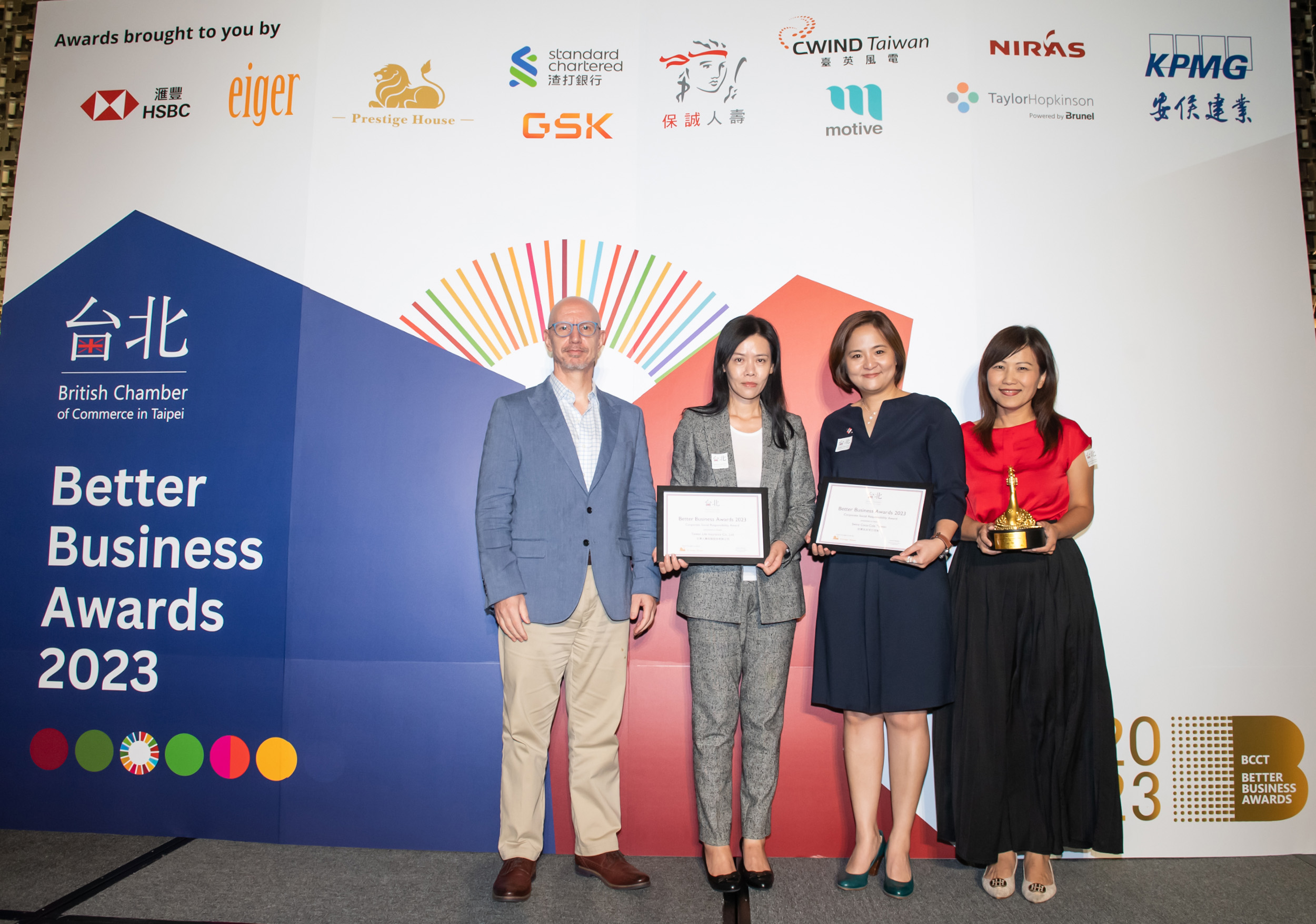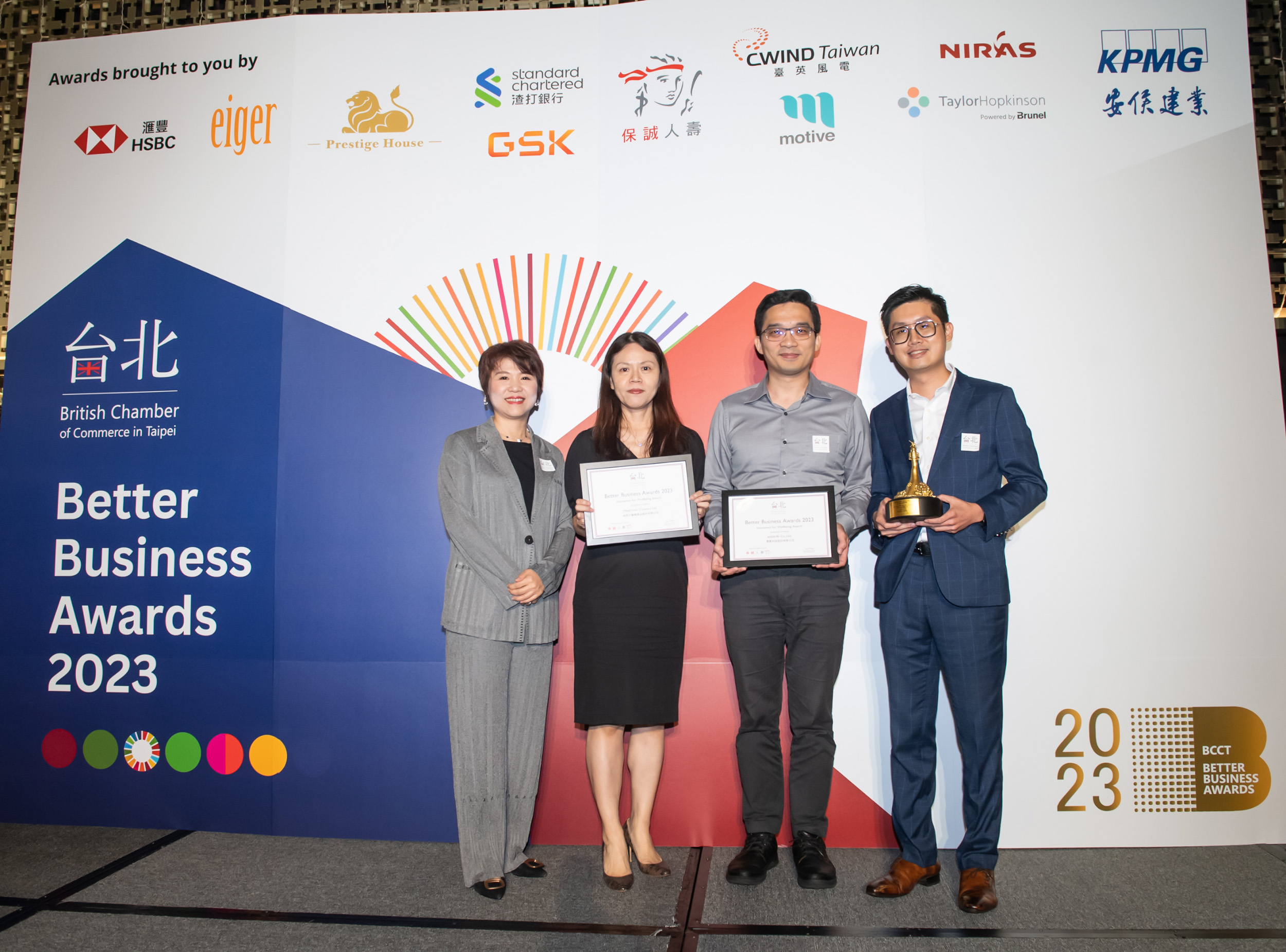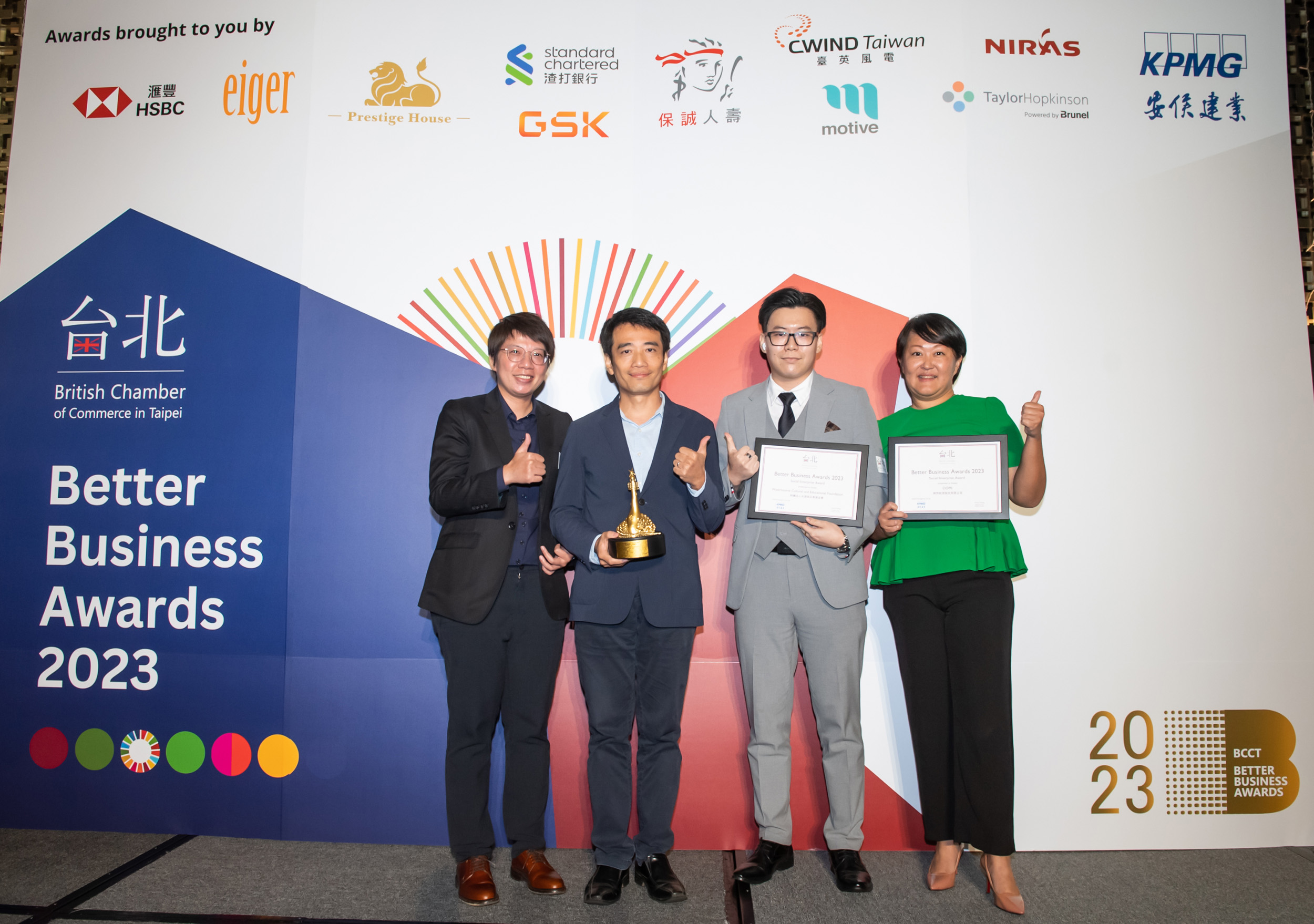 28 September, 2023 – The British Chamber of Commerce in Taipei (BCCTaipei) proudly presented the 7th BCCTaipei Better Business Awards, on 27th September at the Regent Hotel in Taipei, to honour exceptional organisations and individuals who have made outstanding contributions to Responsible Business in Taiwan. The ceremony was opened by Lord Faulkner of Worcester and the keynote speech was given by Joshua Tien, CEO of Taiwan Carbon Trading Market. 
The Better Business Awards reflect BCCTaipei's commitment to promoting responsible business practices across Taiwan and celebrate outstanding achievement. In his remarks, Lord Faulkner said it was an honour to be a part of such a special event. "Environmental social and governance factors – ESG – will drive systemwide change in all industry sectors in the next decade," he said.
Seven awards were presented: Business Leader of the Year, sponsored by HSBC; Climate Champion, sponsored by Eiger; the Corporate Social Responsibility (CSR) Award, sponsored by Prestige House; the Diversity Award, sponsored by Standard Chartered Bank and GSK; the Green Energy Award, sponsored by CWind Taiwan, Niras, Motive, The Offshore Wind Consultants Ltd, and Taylor Hopkinson; the Innovation for Wellbeing Award, sponsored by PCA Life Assurance; and the Social Enterprise Award, sponsored by KPMG.  
The full list of this year's winners:
Business Leader of the Year 最佳企業領袖獎
Winner 特優
Sophia Huang 

黃晴雯

, Pacific SOGO Department Stores Co., Ltd. (Far Eastern SOGO)

太平洋崇光百貨股份有限公司(遠東

SOGO

百貨)
Finalists 優選
Joanne Ling

凌忠嫄

, Chang Hwa Commercial Bank, Ltd. 

彰化銀行

Michael Chu

朱興榮

, FedEx Express International B.V. Taiwan Branch

荷蘭商聯邦快遞國際

(

股

)

公司台灣分公司
Climate Champion 最佳企業氣候行動獎
Winner 特優
Finalists 優選
China Life Insurance Co., Ltd

中國人壽保險股份有限公司

YES CHARGING SERVICE Co., Ltd.

裕電俥電股份有限公司
Corporate Social Responsibility 企業社會責任獎
Winner 特優
Finalists 優選
Swire Coca-Cola Taiwan

台灣太古可口可樂

Taiwan Life Insurance Co., Ltd 

台灣人壽保險股份有限公司
Diversity 企業多元文化獎
Winner 特優
Swire Coca-Cola Taiwan

台灣太古可口可樂
Finalists 優選
Citigroup Inc.

花旗集團

Volkswagen Group Taiwan

台灣福斯股份有限公司
Green Energy 最佳再生能源獎 
Winner 特優
Deutsche Windtechnik Co. Ltd.

德唯特股份有限公司
Finalists 優選
ENERCON Taiwan

台灣艾納康有限公司

Synera Renewable Energy

風睿能源股份有限公司
Innovation for Wellbeing 最佳創新健康福祉獎
Winner 特優
Finalists 優選
aetherAI Co., Ltd.

雲象科技股份有限公司

Medtronic (Taiwan) Ltd.

美敦力醫療產品股份有限公司
Social Enterprise 社會企業獎
Winner 特優
Finalists 優選
DOMI

綠然能源股份有限公司

Watersource Cultural and Educational Foundation 

財團法人水源地文教基金會
Congratulations to all the winners and to all the finalists who can rightly claim to have embraced the ethos of Better Business and to have demonstrated excellence in their operations. We are extremely grateful for their efforts to make society happier and healthier, and our environment cleaner and greener. Better business, better future! 
Winners received a unique trophy designed by Dutch artist Karin Janssen. Combining Eastern and Western symbolism, the trophy depicts a sleeping dragon at the base of a lighthouse. In Western tradition, dragons are often associated with negativity, while in the East, they symbolise power and transformation. This duality represents the opportunity to convert adversity, into a source of strength. The lighthouse signifies hope, guidance, and the innovative ideas that are required to steer society towards a safer and more sustainable future. At the top, a seven-pointed sun symbolises the seven Better Business Awards, collectively shining a light to guide us towards a brighter tomorrow. 
BCCTaipei also shared a special gift with all our guests, made by Zen Zhou Co.,ltd, a former winner of the Social Enterprise Award in 2020. Zen Zhou Co.,ltd develops products for daily use, using materials that are friendly to human health and the environment. Guests received this Beeswax Wrap, an alternative natural food wrap made from organic cotton coated with beeswax. It is reusable and durable, but also biodegradable and, as such, is a product which is closely aligned with the core values of the Better Business Awards.