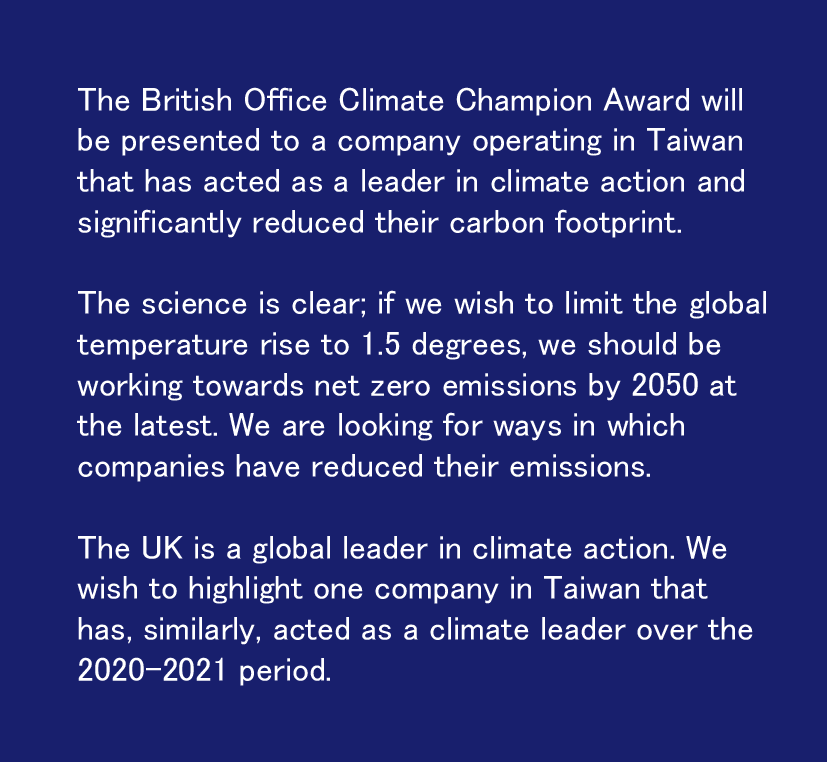 We are looking for companies that have embedded climate action into all aspects of their business operations. This can be through raising awareness with stakeholders, working with supply chains and partners to reduce their carbon footprint, bringing climate action to the board level, or joining specific climate-related initiatives.  
This is the first award of its kind that the British Office has sponsored. It is a unique opportunity to highlight your company's climate leadership. Lord Faulkner, UK Prime Minister's Trade Envoy to Taiwan, will select the final winner, and you will be promoted through the HM Government channels as the British Office's Climate Champion. 
We encourage companies of all sizes, British and non-British, to apply. 
---
Judging Process
Companies will be evaluated on their performance, including any ongoing projects in Taiwan from December 2020 - December 2021. Submissions and evidence must cover activity within this time frame.
We are looking for specific actions that companies have taken towards:
Reducing their carbon footprint

Acting as a climate leader
Applications should include clear evidence of the impact of actions taken.
Applications will be assessed by a board consisting of British Office staff, business leaders, and academics. Lord Faulkner, UK Prime Minister's Trade Envoy to Taiwan, will judge the shortlist and select the final winner.

*Note: In order to ensure fairness and diversity of awards, the winner of last year cannot reapply for the same award this year, but can apply for other award categories.
If you have any questions, please email info@bcctaipei.com or dial T: +886 (2) 2720 1919 
(This regulation does not apply to finalists)